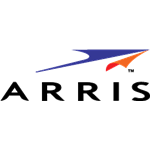 An SI Board Since September 2001
Arris Group, Inc., formerly known as ANTEC Corporation, is a developer, manufacturer and supplier of optical and radio frequency (RF) transmission equipment for the construction, rebuilding and maintenance of broadband communications systems. Arris provides a broad range of products and services to cable system operators. The Company supplies a complete set of products required in a cable system, including headend, distribution, drop and in-home subscriber products. The Company's product offerings can be classified into the four distinct product categories of optical and broadband transmissions, cable telephony and Internet access, outside plant and powering, and supply.

ARRS is the leader in advanced cable telephony solutions and the delivery of converged services across the broadband local access network. The recent announcement of the Cornerstone CMTS 1500 with DOCSIS 1.1 certification may contribute substantially to Arris's bottom line of business because of its heavy weight in the cable industry.
| | |
| --- | --- |
| | Go to reply# or date (mm/dd/yy): |
| | |
| --- | --- |
| | Go to reply# or date (mm/dd/yy): |