Men: AAU ex-CEO sexually abused them Amateur Athletic Union announces investigation, contacts police about allegations

ESPN.com
Archive

AAU Pres. Focus Sexual Assault Investigation
Two former players on AAU President Bobby Dodd's Memphis club allege he molested them in the 1980s

AAU Pres. Focus Sexual Assault Investigation
Memphis police are investigating allegations made by two former players that Amateur Athletic Union president and chief executive officer Robert "Bobby" Dodd molested them in the 1980s.

On Friday, the AAU announced that it had contacted Memphis police after AAU officials learned from ESPN's "Outside the Lines" about allegations made by the two players. The AAU also announced its own investigation, that Dodd would not be returning to the organization after a medical leave, and named an interim leader.

"Outside the Lines" tried several times Thursday and Friday to contact Dodd about various abuse allegations. Dodd, 63, the AAU's top executive since 1992, did not respond to in-person visits at his home and AAU offices, telephone calls or email to answer questions about the allegations. The players allege a pattern of inappropriate touching of them by Dodd, masturbation by Dodd while they slept in hotel rooms during tournaments, and players younger than 16 being supplied alcohol.





WATCH OTL SUNDAY Watch "Outside the Lines" at 10 a.m. ET on Sunday on ESPN2 for more on this story.



Memphis police on Friday night issued a statement from Memphis Police Director Toney Armstrong: "The Memphis Police Department takes allegations of child sexual abuse very seriously. Although this case has its challenges due to the amount of time that has passed, it will be thoroughly examined; and if the investigation reveals the law was violated, the person responsible will be held accountable."

One of the former players making the allegations said Friday night that a Memphis detective had contacted him and said that the AAU had supplied the names of three former players who had alleged abuse to the organization.

Two players told OTL they had contacted the AAU in early November with claims that Dodd had molested them. AAU first vice president Louis Stout, who is the interim president, told OTL on Thursday evening that he was not made aware of the allegations but should have been.

Ralph West, 43, of Miami showed "Outside the Lines" an email he said he sent to the AAU's compliance department on Nov. 9 about Dodd's alleged behavior. In it, West wrote, "Bobby Dodd is a pedophile that assaulted me in Memphis in 1984. I am speaking to a reporter and attorney." West later contacted a reporter for OTL but said he decided not to hire an attorney.

The second former player, who spoke to OTL only on the condition of anonymity, said he called Dodd on Nov. 11 and confronted him about his "sick" behavior and that Dodd apologized for the alleged abuse. OTL verified the 8-minute phone call to Dodd by examining telephone records.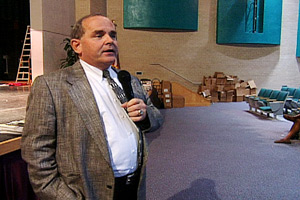 ESPNAAU president and chief executive officer Bobby Dodd, shown in a 2000 "Outside the Lines" report.


The former players allege behavior and actions that occurred between the ages of 12 and 16 under the supervision of Dodd, a YMCA director in the 1980s who still directs Memphis-based AAU teams that are among the best in the nation. Among the players who have passed through his club over the years are former NBA players William Bedford, Vincent Askew and Anfernee "Penny" Hardaway.

The players alleging molestation said they also saw hundreds of photographs of the clothed backsides and crotches of AAU players in one of Dodd's filing cabinets, and bags filled with dozens of pairs of teenage boys' old underwear with names and dates on them. They said that he had a hair fetish and would keep in envelopes the boys' hair that he had pulled out in impromptu wrestling matches where he would also grope them. They said he often used petroleum jelly to affix hair to the dashboard of his car.

The former player who spoke anonymously also alleges that Dodd drugged him when he was a youth. He also said Dodd offered to pay him $1,000 if he agreed to have oral sex performed on him while he was blindfolded and bound. West spoke about once catching Dodd hiding in the attic of his house, in his underwear, with a video camera after telling players they could use his house to party with their girlfriends because he would be out of town.

Both former players said they had never approached the police with such allegations and only recently shared their accounts with their families.

"Outside the Lines" notified Dodd and his administrative assistant on Thursday afternoon that former players had shared their accounts with ESPN, and OTL requested comment from Dodd, who was still listed on the AAU website Friday as president and CEO. Thursday evening, 15 minutes after OTL attempted to speak with Dodd at his home, his assistant responded with a brief email, stating only that Dodd had cancer and retired from the AAU on Nov. 29 for health reasons.

His departure, and the allegations of sexual abuse, came as news to other top AAU leaders Thursday night.

"That's the first I've heard of any of it," said Robin Brown-Beamon, national chairwoman for the AAU athletics executive committee, who claimed to be a longtime friend of Dodd's.

Stout of the AAU said that Dodd told him in late November that he was having surgery and planned to retire from the organization he had built into one of the largest and most powerful in youth sports. But Stout said he encouraged him to hold off on announcing as much until after he got through the surgery and had a chance to speak with his doctor.

West and the accuser who requested anonymity, who played at different times for Dodd, said they independently -- and without knowing about the other -- confronted Dodd last month about what they recalled after seeing news reports of the alleged sexual abuse by former Penn State coach Jerry Sandusky. The former player who requested anonymity said he was shocked to learn from Dodd in the November telephone call that West had recently contacted Dodd with similar allegations.



[+] Enlarge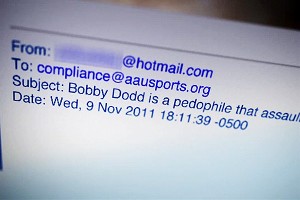 ESPN"Outside the Lines" viewed a copy of an email Ralph West said he sent to AAU's compliance office about AAU president and chief executive officer Bobby Dodd.


West said that no one from the AAU followed up on his Nov. 9 email that he sent to the compliance department alleging that Dodd was a pedophile. He said he sent the note to the AAU because he was concerned that Dodd still had access to children through his Memphis AAU club, and as the head of a national organization that serves more than 500,000 children.

"That's when I said, 'No, this isn't going to happen,'" said West, who added that he reached out to "Outside the Lines" after getting no response from the AAU.

West, who became physically ill on camera as he relayed his account to OTL, said Dodd either abused or attempted to abuse him a half-dozen times from 1983-85. He said each incident occurred in a similar fashion: "He would always try and sneak into the room, coming up to you in the middle of the night. That's his thing; he comes in the middle of the night and you don't hear anything ... and he's trying to reach his hand in your underwear, basically."

West said Dodd first touched his penis on a basketball trip to Daytona Beach, Fla., in 1983, when he was 15.

"It was late, it must have been three in the morning," he said. "I was dead asleep and I don't remember anything but waking up and he has his, he's trying to put his hand in my boxer shorts. And I jumped up straight out of the bed and he's not there, but he's laying on the floor next to me down by the bed. And I ... of course I was freaked out."

West said Dodd fondled him, tried to fondle him or masturbated in front of him at tournaments in Florida, Louisiana and Tennessee, at the AAU Junior Olympics in South Bend, Ind., and at Dodd's home in Memphis.

"I was afraid to even fall asleep when he was around," West said. "It got to where I would barricade (myself in the) hotel room. I would take the table and chairs and I'd block it all against the door. And it got to where he couldn't assault me but he would push his way in the room and he'd lay at the floor of the bed masturbating. You just lay there horrified. But you don't know what to do. What, are you going to blow the lid off of this at 14 years old? All you want to do is pretend it didn't happen and not address it at all. You want to hide and bury it."

West is married with two children and works as a chef in Miami. He said he has lived a more mature life after struggles in young adulthood with alcohol, issues brought on, in part he says, by the abuse. Those struggles led to arrests, and he was convicted of reckless driving, driving under the influence and possession of a controlled substance in separate events from 1988 to 1991.





[+] Enlarge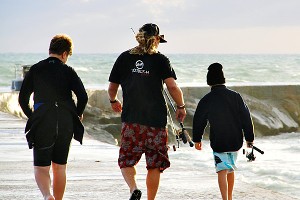 Nicole Noren/ESPNRalph West said he decided to speak publicly about allegations that Bobby Dodd sexually assaulted him because he hates to think what he experienced might still be occurring with other children today.


The other former player was a member of one of Dodd's club teams several years after West. He said Dodd began touching him inappropriately when he was 12 when Dodd convinced his parents to allow him to spend the night at his house before weekend games that he would referee at the local facility where Dodd ran a basketball league for little kids. He says Dodd had him sleep in the man's own bed.

"He would just roll over," the player said, "and I can remember trying to just lay on my stomach, to where he didn't have any access to my waistband ... private parts, thinking, 'This night seems like the longest night ever. Just let me see some light through the curtains so I can get out of here.'"

West, who worked for Dodd at the East Memphis YMCA in addition to playing on his teams, said Dodd first touched him when he once showered at the facility. He said touching would continue in wrestling matches Dodd would initiate.

"He would want to wrestle or put you like in a headlock, and I started noticing him pulling, pulling my hair out," he said. "And I was, at the time you just think you know, you tell him 'Man, what are you doing? ... That hurts, you're pulling my hair out by the root.'

"I started noticing that he would have the hair in the car. That he'd pick me up for school and there'd be a hair on the dashboard and it's a blonde hair."

West said Dodd tried to keep him close to him by paying for him to attend a Christian school on the other side of Memphis, picking him up and dropping him off every day in his red Corvette. West's sister, Michelle, said she recalls Ralph attempting to distance himself from Dodd but never saying why, and that Dodd worked hard to earn the family's confidence.

Tax forms show that the AAU paid Dodd, who is single with no children, $270,000 a year to run its national office, located on the grounds of Walt Disney World Resorts. Disney's 30-year deal with the AAU was signed in 1994, and allows the AAU to host sports events and lease an office building on Walt Disney World Resort property. The AAU moved into that building when the Wide World of Sports complex opened in 1997.

"The AAU has recently been made aware of some serious allegations about President Robert W. 'Bobby' Dodd, dating back several decades," the AAU said in a statement Friday. "The AAU has opened an independent investigation into these matters and also has contacted local law enforcement in Memphis, where the activities allegedly occurred. We will actively cooperate with any and all authorities to determine the facts and the truth.

"Mr. Dodd also is dealing with some serious current health issues related to his diagnosis and recent surgery and treatment for colon cancer. He will not be returning to his positions as President and Executive Director of AAU.

"The officers of the AAU are stepping up to shoulder all additional responsibilities necessary to ensure that our operations can smoothly continue. As First Vice President of AAU, I [Stout] have been asked and authorized to now serve as interim President."

Disney owns ESPN, which is a major sponsor of a variety of AAU programs and broadcasts many AAU events.

Brian Besanceney, senior vice president/public affairs, Walt Disney World & Worldwide Government and Industry Relations, said: "ESPN Wide World of Sports hosts hundreds of different organizations for sporting competitions and events each year and none of the organizations, including the AAU, have independent access to these facilities. Our property is comprised of over 28,000 acres, and the AAU office space is not located near a theme park."

A Disney source said Disney has not received any complaints about Dodd related to sexual abuse. The source said Disney learned of the allegations through ESPN's reporting and not from the AAU.

Disney did not have a role in prompting the AAU to handle the situation in the manner that it did Friday -- contacting Memphis police and announcing that Dodd would not return to his positions with the AAU. "That was an internal decision of theirs," the source said.



[+] Enlarge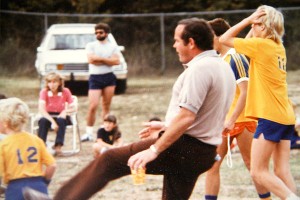 Courtesy of Ralph WestRalph West, far right, and Bobby Dodd, center, in the 1980s.


Under Dodd, the AAU has added national championships down to the second grade level. By catering to travel teams for children, Dodd has doubled the AAU's membership in the past 10 years and attracted major sponsors, including ESPN The Magazine, which coaches can sell to raise funds for their programs. The AAU has also fortified its position within the culture of its primary sport -- basketball. Last year, Dodd joined the advisory board of iHoops, the official youth basketball initiative of the NCAA and NBA, which promotes coach certification. AAU is also an affiliate of USA Basketball, the governing body of the sport.

As AAU president, Dodd has resisted pleas by leaders within the youth sports industry to adopt mandatory background checks on coaches. Still, AAU rules forbid the participation of any coach or administrator facing potentially credible allegations of sexual misconduct. It's unclear if the AAU took any action internally with Dodd after it received the email note from West. Stout said nothing was shared with him, and he's never heard of Dodd being involved with sexual abuse.

"The officers would have held a meeting if there was a situation like that," he said. Asked who was in charge of the AAU now, with Dodd apparently gone, Stout said, "You're talking to him."

West told "Outside the Lines" that Dodd also was a voyeur -- he once attempted to secretly film West, then a teenager, having sex with a girl. He said that Dodd invited him and others to use his apartment while he was supposedly going out of town. Instead, Dodd was found by a female friend of West who noticed an attic door was ajar in the bedroom.

"He's in the attic and he's looking down ... and the girl opens the door and she -- they looked at each other, and she screams," West said. "She goes, 'there's somebody up there.' And so, we leave immediately, but we wait outside the front door, and you could hear him crawling out of the -- out of the attic."

West said Dodd had a video camera and a jar of petroleum jelly, and that the attic area contained a twin mattress. One of the girls from that night confirmed the incident to OTL on Wednesday evening: "To the best of my recollection, that did happen," she said, speaking only on the condition of anonymity.

West said shortly after that, Dodd bought a home in rural Mississippi and asked West and a teammate, Orien Watson, to move a file cabinet from his bedroom. He said they opened the filing cabinet and discovered male pornography, players' underwear, photos of players' crotches and butts in uniform, and a manila envelope of locks of boys' hair. Watson confirmed the account to OTL.

A fourth former player, who requested anonymity, said it was common knowledge among players who traveled that their underwear would at times go missing.

"I'm thinking this guy's -- this guy's sick, and that's it. It was very shortly after that I quit the team," West said.

Watson said he was never molested by Dodd. But players on the team heard that West was being abused, he said, and didn't know what to do with the information.

"When Ralph was playing, we just laughed about it, I guess because most of us didn't experience what he experienced," said Watson, a star who went on to play at Mississippi State.

Watson said he finds it "sad" that the revelations are coming out now, more than 25 years later. "Bobby helped a lot of kids over the years," he said.

The second player alleging Dodd inappropriately touched him also said that Dodd plied him with alcohol, at one point drugging him.

"Looking back on it now, I know for a fact that he put something in my, in my drink that night because the last thing that I can really remember was him carrying me into his bedroom," he said. "I can remember him touching me in ways that I didn't want another man touching me." He said woke up about 3 p.m. the next day "feeling [like] somebody had just beat me with a baseball bat." He said he didn't recall what happened: "I can just remember those things and probably don't want to remember."





[+] Enlarge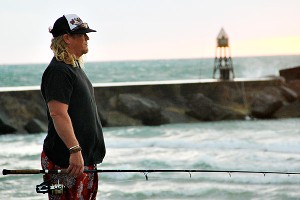 Nicole Noren/ESPNRalph West said he was a childhood victim of sexual assault by AAU president and chief executive officer Bobby Dodd.


He said he cut ties with Dodd after he was offered $1,000 to accept oral sex.

Some 20-plus years later, the former player said he contacted Dodd on Nov. 11, memories prompted by the Sandusky case. Phone records provided to "Outside the Lines" show an eight-minute call to Dodd on Nov. 11.

"I said, 'I'm basically going to ask you one time and I want to know the truth -- did you drug me that night you provided me with alcohol?'," the former player said, relating his talk with Dodd. "And his answer was basically, it wasn't yes, it wasn't no. It was, 'Well, if I did, I don't remember,' so I just told him that basically answered my question, that yeah, you did it to me.

"And we went into other stuff, like I told him, 'You have no business being around young kids.' And, 'Over the years, how many kids have you done this to?' The only thing he really said to me is ... 'All I can say is I'm sorry.'

"I said, 'You, you're a sick son of a bitch.' "

The alleged victim said he had no idea that two days earlier West -- whom he hadn't spoken with in 25 years -- had also contacted Dodd's office.

"I'm not looking for any type of compensation, I'm not trying to sue him or the YMCA or -- I want nothing to do with that," West said. "All I want is his exposure. I want him exposed as the fraud that he is, and I don't want him around -- he needs to have no contacts with boys, none. He shouldn't be coaching, he shouldn't be the director of the AAU, and he shouldn't be presenting the fraud that he is out there with the AAU. The guy's a pedophile, and he somehow has managed to enrich himself off of it."

ESPN Enterprise Unit reporter Tom Farrey can be reached at tom.farrey@espn.com. Producers Nicole Noren and William Weinbaum contributed to this report.



ESPN Conversations