Renren: Social Networking Top Pick; Initiating With $6 Target

seekingalpha.com

I initiate coverage on Renren (

RENN

) with Equal weight rating and a DCF-based priced target of $6.

Investment Thesis


China's largest real-name social networking service site with first-mover advantage, broad product offering and superior user experience that translate to strong brand equity and network effect
Biggest beneficiary of social network advertising, acting as a "one-stop-shop" that features sponsored stories, demographic-driven display ads and corporate fan-sites
Location-based-services (LBS) and group-buying to drive further growth as Renren enters the untapped market of mobile social network advertising
Valuation: Renren is currently valued at 15x EV/revenue, on par with its closest SNS peer LinkedIn (

LNKD

).
Recommendation: I initiate coverage on Renren with an equal weight rating and a DCF-based price target of $6, which values it at 6x 2012e EV/revenue. The key risks include: (1) regulatory risks; (2) slowdown of Chinese economy; (3) competition from microblogs; (4) rising cost of Nuomi.
Why not Overweight: Since Wall Street Journal reported Facebook's $10 billion IPO that would value the firm at $100 billion, Renren's shares have jumped over 40% the past three days. I feel that Renren's valuation has gone ahead of itself and the stock could take a breather in the near-medium term.
Business Model

Renren generates revenue from online advertising, online games, other internet-value-added-services (IVAS) and Nuomi.

Online advertising include display ads, promotions, in-game advertising and fan-pages. Some of Renren's top advertising clients include Coca-Cola (

KO

), Adidas (ADDDY.PK), HP (

HPQ

), Nokia (

NOK

), Motorola (

MMI

) and McDonald's (

MCD

).

Online games include in-house developed, licensed and third-party developed social games. Currently, Renren has over 400 in-house developed and license games ranging from action shooters for the serious gamers to role-play for casual gamers, and over 900 games from third-party developers.

click to enlarge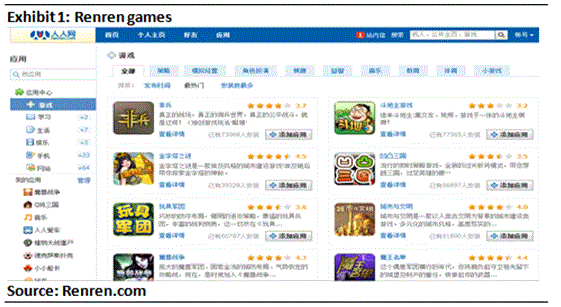 Other IVAS revenue consists of the sale of virtual items and paid accounts that grant users additional features, such as larger friend lists, bigger photo albums, free MP3 streaming and customized profile pages.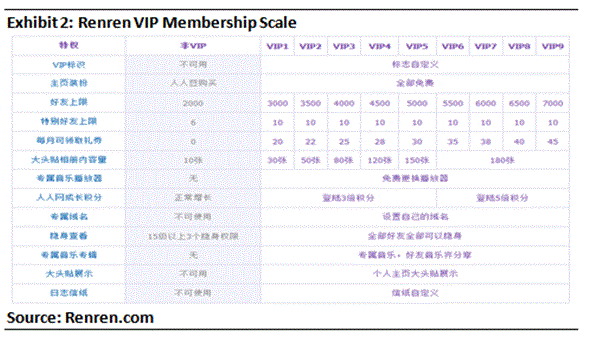 Finally, Nuomi is Renren's group-buying service that was launched in June 2010 and operates in similar fashion to Groupon (GRPM). The unit is one of the top 10 group-buying sites and advertises local deals in 60 cities across China.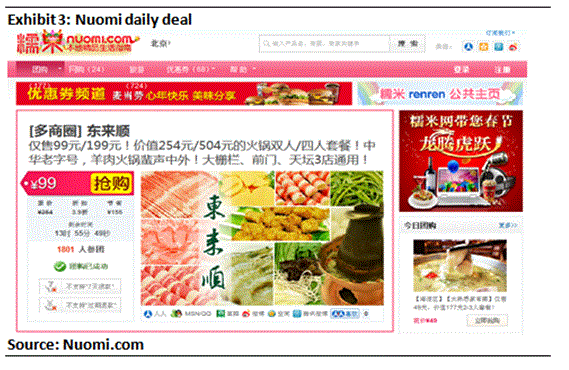 Investment Highlights

The leading real-name SNS platform in China. Renren.com is China's largest "real-name" social networking site. The company operates in similar fashion to Facebook (

FB

) in which users can set up their own profiles, post updates, upload pictures and send messages to other users in their network.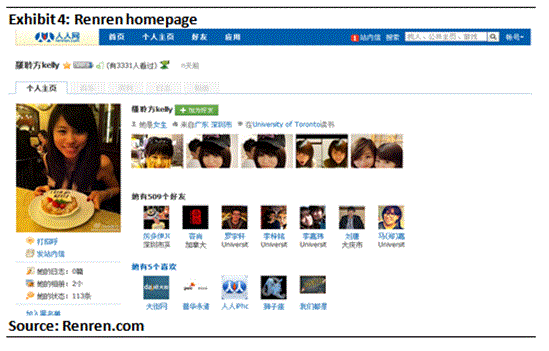 Renren's competitive advantage lies in its first-mover advantage and superior user experience and value propositions that resulted in strong network effect.

Established in Tsinghua University one year after the founding of Facebook, Renren became the first real-name SNS platform in China and immediately gained popularity among college students as its real-name feature met their need of keeping touch and communicate with close friends over the internet.

Aside from traditional SNS offerings of user profiles, messaging, photos and updates, Renren quickly expanded its product offerings which include online social games, e-commerce, third-party apps and online videos. The broad products and services improved user experience and stickiness, and expanded its presence among the Chinese universities and young urban professional communities.

Because Renren's real-name platform allows users to search for friends, build an extensive contact database and meet their social networking needs, Renren experienced tremendous growth in total activated users over the past five years. From 2007 to the end of 3Q11, Renren's total activated user base grew from 30 million to over 137 million. Over the past year, Renren has been adding 2.8 million users per month. Assuming a conservative 2 million per month net additions, Renren's total activated user base could reach 400 million+ by 2022.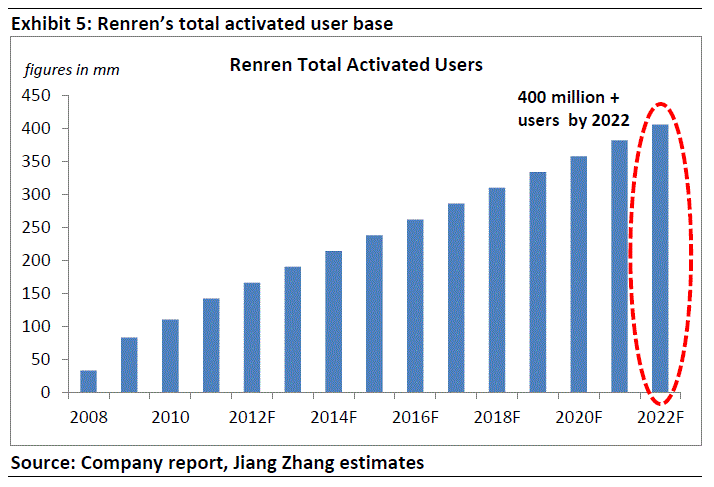 Renren's large user base, strong brand equity, and innovative products and services allow the company to establish presence in other social networking verticals. In addition to its flagship real-name SNS platform, Renren also operates Jingwei.com, a professional social networking site similar to LinkedIn, and Chewen.com, a car enthusiast social networking site.

Currently, both sites are still under beta testing. However, I believe that they will be highly successful once operational because:


Renren users can access both platforms using their Renren log-in and consolidate multiple platforms (eg. social, professional, and interests) that result in low switching cost and better user experience.
Jingwei will likely become the preferred professional networking platform over LinkedIn due to established user stickiness of Renren's brand, products and services. The increasing adoption of Jingwei by young urban professionals will result in greater network effect for the platform.
Growing interest of automobiles among Chinese consumers has created thousands of local car clubs where enthusiasts share information on vehicles, insurance, maintenance and related topics. Chewen connects enthusiasts at both the local and the national level as young urban professionals and internet users pursue their aspiration of car ownership.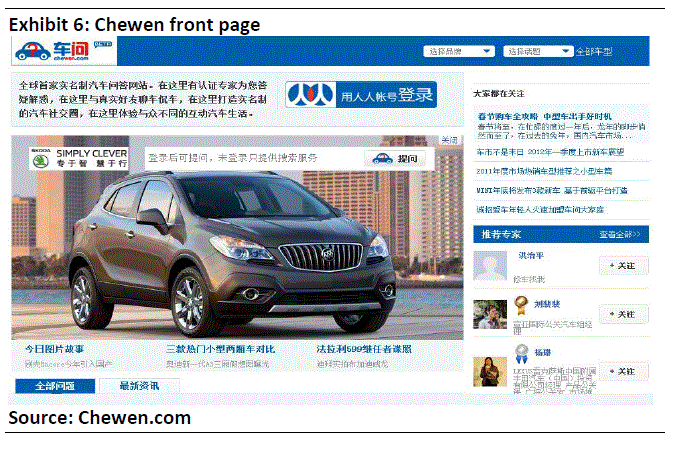 Jingwei and Chewen will greatly enhance Renren's value proposition and open additional monetization channels for the company.

The "one-stop shop" for social network advertising in China. Social network advertising is gaining significance because it is likely to revolutionize online advertising by leveraging word-of-mouth, which is widely considered the most effective marketing tool. In a 1955 book titled "

Personal Influence: The Part Played by People in the Flow of Mass Communication

", authors Paul Lazarsfeld and Elihu Katz pointed out that advertisers broadcast their messages to certain individuals, such as opinion leaders, so they can spread the message via word of mouth to their own social networks. Personal influence is an important part of consumers' decision making process, and advertisers seek to capitalize on the social action of internet users to drive future sale.

According to Global Industry Analysts, the social network advertising market is expected to reach $14.8 billion by 2017. While the majority of the growth will be in the US, low internet penetration and minimal adoption of social network advertising in China implies greater upside than the developed markets.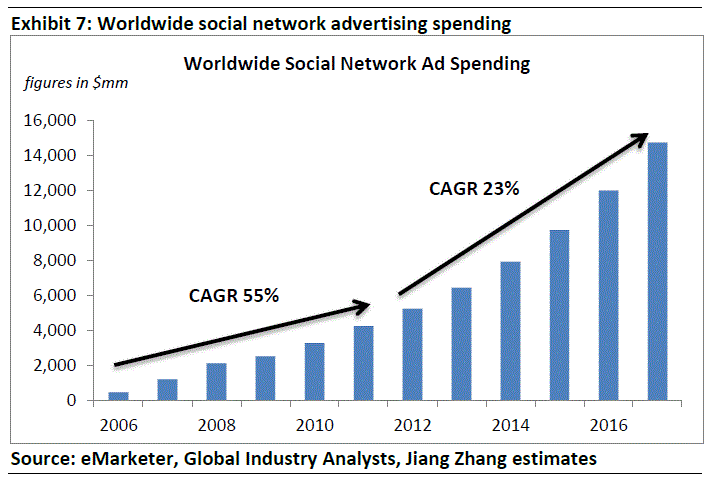 Social network advertising consists of:


Sponsored story. This type of advertising involves broadcasting a news feed onto the user's social network profile based on his action. For example, if a user uploads a feed involving Starbucks (

SBUX

), then a Starbucks logo would instantly show on the user's profile.
Display ads. This involves placing traditional banner and display ads onto an user's profile. Advertisers can utilize the demographic data in the profile page to target consumers more directly, allowing for greater effectiveness of the promotional messages.
Fan-sites. This method involves advertisers setting up fan-sites that followers can join. The increased number of "fans" or "followers" allows the advertisers to develop its network effect and promote its products and services.
Of the three social network advertising methods, sponsored ads are considered most effective due to the influence the user has over his network, followed by fan-sites. Pseudonym SNS platforms operated by Tencent (

TCEHY.PK

), Sina (

SINA

) and Sohu (

SOHU

) utilize the first two methods because they are effective in a follower-based environment in which consumers receives an advertising broadcast from a known source, such as a friend or a fan-page. However, display ads on the pseudonym SNS platform are ineffective because user data are either unreliable or nonexistent. For example, Sina's Weibo "certifies" the user's real identity by placing a "Sina Certified" badge in the user's profile page.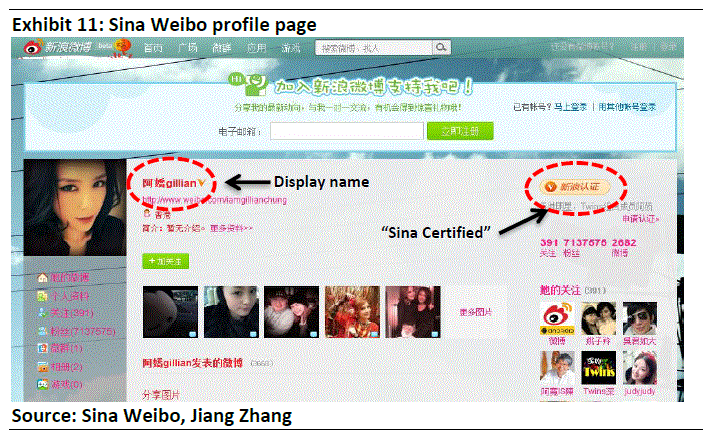 Renren's real-name SNS platform can effectively deliver all three social network advertising methods because advertisers can not only set up sponsored ads and fan-pages but also rely on the real user profiles to deliver display and banner ads. The ability to present three, rather than two, options to the advertisers allows Renren to become a one-stop shop for social network advertising. Renren can also establish a tier-pricing mechanism that showcases the different channels to attract the 40 million SMEs that have different advertising budget.

Currently, Renren is building a new advertising system similar to Facebook's

Beacon Project

, which helps advertisers target consumers by age, education, language, employer, location and interest, and leverage the network effect to broadcast messages. Advertisers can also manage their budget by choosing CPC or CPM, and obtain detailed analysis on their ads in regards to impressions, clicks and demographics on the audience. According to management, the new ad system is currently undergoing beta testing.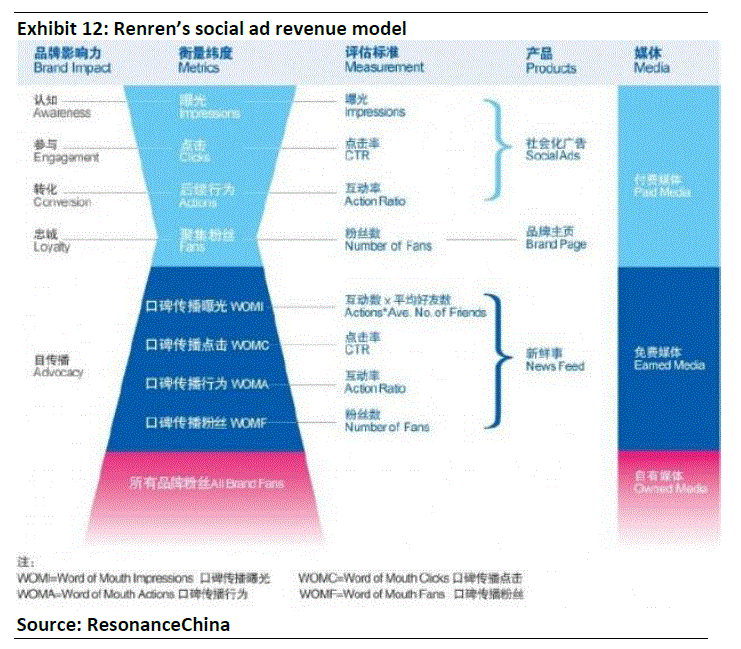 As of 3Q11, online advertising accounts for 57% of net revenue. I expect it to account for 70% of net revenue by 2015 as advertisers increasingly adopt SNS to better target consumers and achieve higher effectiveness on their ad budget. We could see the launch of the new ad system in 2H12.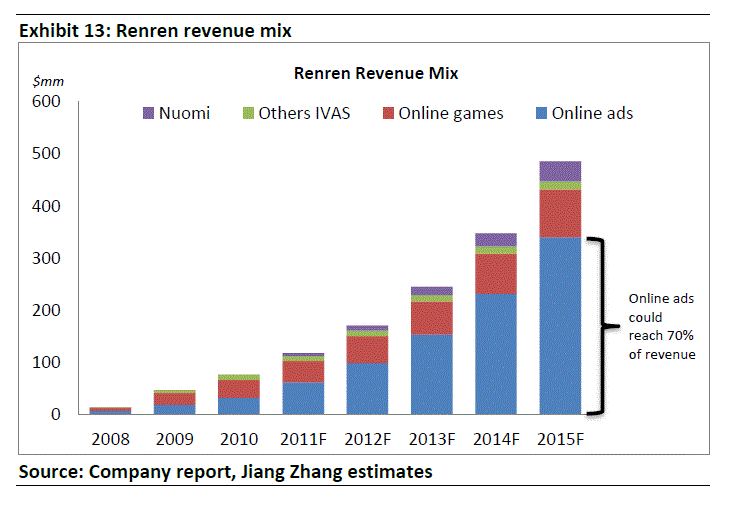 Mobile initiative and group-buying expands market opportunities. As of 3Q11, Renren's mobile penetration reached 13.3 million users, or 35% of its total monthly unique users. Half of the mobile users access Renren through smartphones and I believe this trend is likely to continue as low-end smartphones become increasingly affordable and as feature phone users trade up to low-end smartphones. According to DCCI, mobile internet users in China are expected to outnumber desktop internet users by 2013.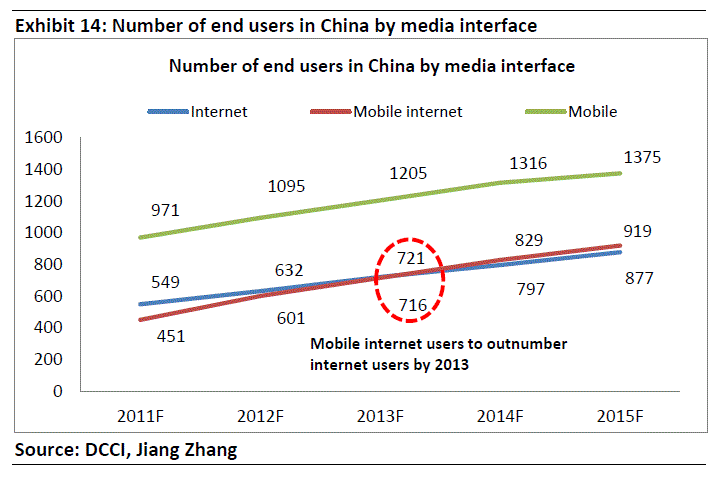 Renren officially entered the mobile social networking market with the introduction of HTC Daren, an Android-based device that incorporates many of Renren's core functions and location-based-service (LBS) features. The device will be selling for Rmb 2,000, which is a cost considerably less than its peers.




HTC Daren will greatly enhance user stickiness for the device features an easy to access menu that allows users to update their social feeds on the main interface. It can also sync contacts with their respective Renren accounts so the address book automatically display status updates. Other features include a 5MP camera and app store.

HTC Daren entered the market well before the Facebook Phone, code named "Buffy", which is also developed by HTC and expected to be launched this year. I believe that this validates Renren's mobile strategy and highlights the forward-thinking nature of management.

Nuomi is also a critical component of Renren's mobile and LBS strategy. According to a CNNIC report published in January 2012, group-buying is the second fastest growing segment in China's internet industry with 64 million users (+245% y/y) but accounts for just a 12.6% penetration rate, implying significant upside.

Nuomi can benefit from HTC Daren's LBS feature as it delivers coupons, discounts and promotions to users whenever they log into their Renren account. It can also deliver group discounts to multiple users when it detects a sufficient number of Renren users are within close proximity to the deal source.

To fully solidify its nationwide coverage, Nuomi partnered with Focus Media (

FMCN

) to run promotions and discounts on Focus Media's next generation interactive LCD screens. The new advertising device features a large screen for video ads and three smaller screens for flash ads. Sensors located at the bottom of the smaller screens allow consumers to receive promotion by using Q-cards or near-field-communication features in their mobile device.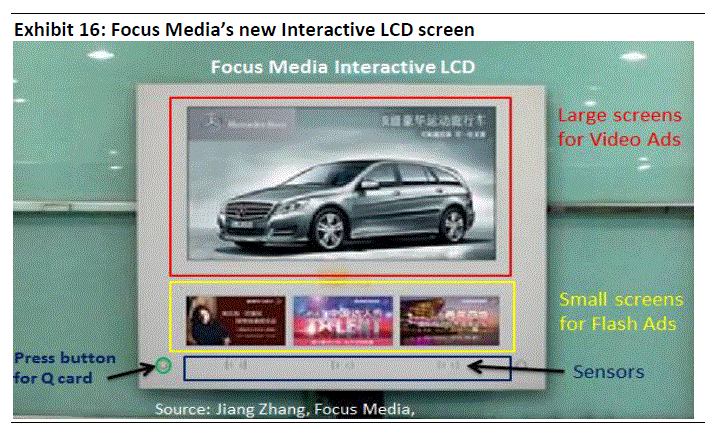 Renren's LBS platform currently delivers over 30,000 daily deals and protmotions. With only one year of operational history, Nuomi already ranks as one of the top ten among the 5,000 group-buying sites in China. I expect Nuomi to continue to grab market share from smaller rivals and improve its sector leading 8% conversion rate as it leverages HTC Daren and Focus Media's interactive LCD screens amid industry consolidation.

Experienced Management Team

Joseph Chen, Founder, Chairman, Chief Executive Officer:


Co-founder of ChinaRen.com, China's first-generation SNS
Senior vice president of Sohu.com
Bachelor of Science from University of Delaware, Masters of Engineering from MIT and MBA from Stanford University.
Hui Huang, Chief Financial Officer:


CFO of Cathay Industrial Biotech
Executive director at Johnson Electric Capital Limited
Bachelor of Science from Shanghai Jiaotong University and MBA from Wharton School at University of Pennsylvania
James Liu, Chief Operating Officer:


Co-founder of UUMe.com, one of China's earliest SNS
Product management direct at Fortinet (

FTNT

)
Bachelor of Science from Shanghai Jiaotong University and MBA from Stanford
Alvin Chiang, Chief Marketing Officer:


Vice president at Alibaba (

ALBCF.PK

)
Vice president of sales at NetEase (

NTES

)
Bachelor of Management Science from National Chiao Tung University
Financial Outlook

I forecast net revenue to grow at a CAGR of 44% from 2012e - 2016e, driven by advertisers' growing adoption of real-name social networking sites to better target consumers based on demographics such as age, gender, geography, education level, interest and networks. In addition, Nuomi will continue to expand market share by leveraging Renren's large user base and brand equity as the industry consolidates. In the subsequent five years from 2017e - 2021e, I forecast net revenue to grow at a CAGR of 25% as online advertising based on SNS approaches maturity.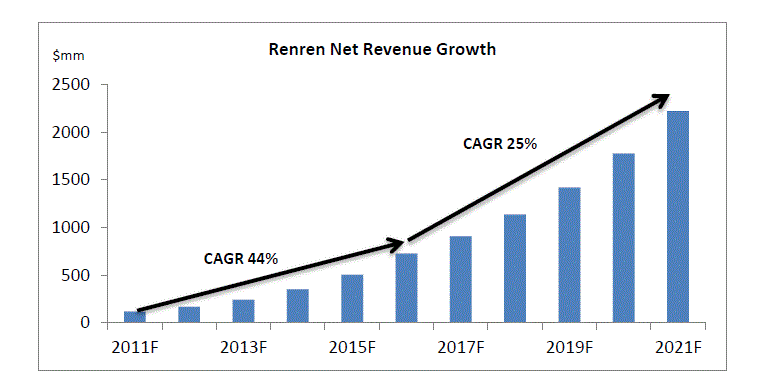 I expect the gross margin to be 80% for the foreseeable future as bandwidth cost, which accounts for the majority of COGS, to remain relatively flat at 12% of sales.

Operating expenses are expected to be on above 80% of sales in the next two years as Renren ramps up marketing expenses to promote Nuomi. The company will also continue to invest heavily on R&D to improve the user experience in its SNS platform.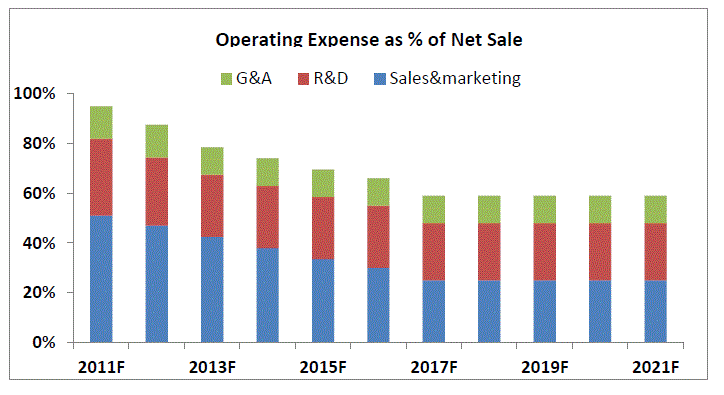 EBITDA margin is forecasted to increase to 14% by 2015 and to 23% by 2021 as less marketing expense is required to promote Renren and Nuomi's brand. R&D expenses are also expected to decline after Renren improves the SNS user interface and bridges the gap it has with Facebook.

CAPEX is expected to be 9% of revenue for 2012e as Renren ramps up spending on servers and equipment to meet the growing user base. From 2017e onward, CAPEX is expected to decline to 3 - 4% of revenue as the business matures and the spending is geared toward maintenance of equipment.

EPS is expected to be $1.00 by 2016, compared to my estimate of $0.13 per share loss for 2011.

DCF Summary

My DCF analysis derives a price target of $6.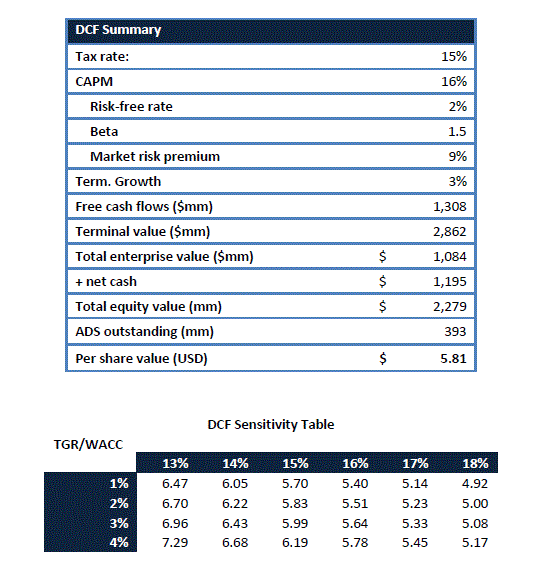 Disclosure: I have no positions in any stocks mentioned, and no plans to initiate any positions within the next 72 hours