--- Analysis of MUX Expected Cash-Flow : Financing Requirements for 2013 ----

In a previous post I had mentioned that the current Rights-Offering (RO) would only be sufficient to get MUX through to early 2013. Here I will present the analysis that got me to that conclusion.

In the below table I model the expected cash inflows & outflows from now until El Gallo Phase 2 is set to enter production. If one assumes that Mr. McEwen will be compelled to refill the bank account when cash levels get down to sub $40m, as he did with the current RO, then we can get a rough estimate when the next financing will be. With current cash on hand and $60m from the RO, McEwen Mining will reach that $40m threshold by the end of 1Q2013 if the below assumptions pan out. This date can shift a bit because in my modeling I assumed an evenly distributed cash outflow for El Gallo Phase 2 capital expenditure and reality will likely show more lumpy cash outflows over the period.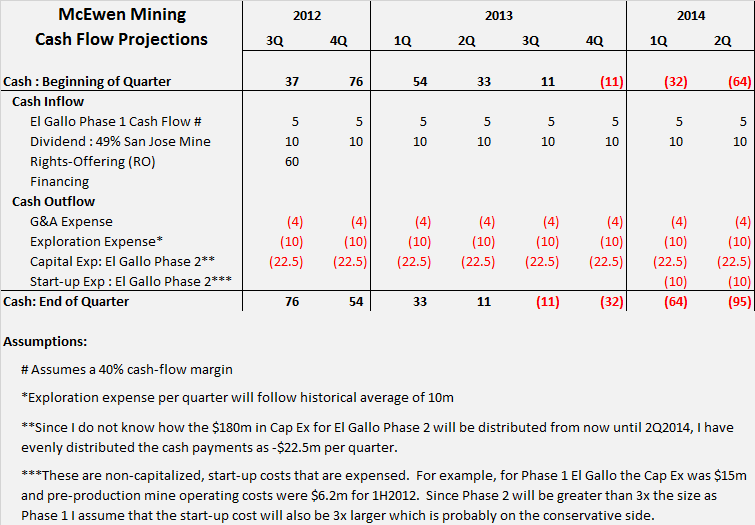 If one assumes that MUX does a financing in the first half of 2013, it would need to be around $150m in order to maintain cash levels above the $40m level until El Gallo Phase 2 is online. -See Chart Below-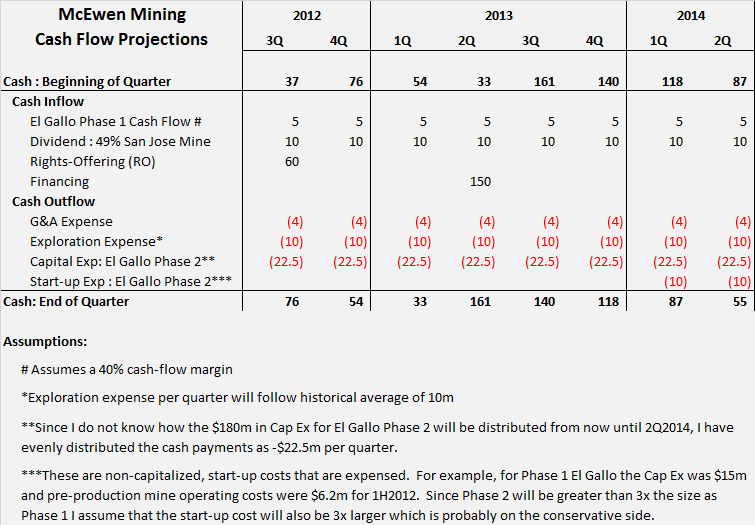 In the recent MUX presentations, a chart of cash levels are shown however no details are given to justify their numbers. Either they are assuming the San Jose will be sending quarterly dividends significantly higher than they have historically or they assume that exploration expenses will be less then they have been historically. Both assumptions are not realistic for conservative projection purposes in my opinion.

Whether my rough timing is wrong or not, what is clear is MUX will require another large financing in the next 2yrs in order to fully fund El Gallo Phase 2. The only thing that can really change this is if Mr. McEwen can successfully sell Los Azules in the first half of 2013. However, considering that the legal dispute regarding Los Azules will not be settled until the end of 1Q2013, such a quick sale may prove to be a low probability event.

Also, my discussion on how I will play the RO will change depending on if MUX's price is knocked down during that period. In which case, I will exercise my the Rights offered as opposed to selling them.

-Chris