Another article, great read

Verisante Technology: The Future Of Cancer Detection

Michael Anderson
Seeking Alpha

seekingalpha.com


Font Size:

Print
Email
Recommend
0

Share1

inShare



Introduction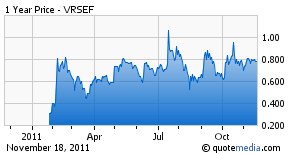 Versante Technologies Inc ( VRSEF.PK) seems to finally be getting some attention, which is well deserved, but the price per share still is not yet reflecting the postives for this company. The volume is beginning to pick up again as it has slowed since the inception of VRSEF on a U.S. Exchange, with periodic higher volume days throughout, but not usually consistent. Verisante also trades on the Canadian Exchange under the symbol VRS.V.

First, the most important part is the innovative technology that this company has developed, Verisante Aura and they are in the early stages of development for the Verisante Core, which helps to identify other types of cancers. The Verisante Aura is something that is going to be able to greatly help skin cancer patients and it is going to be the focus of this article. Basically, it is a device that has shown to have a very high success rate in detecting skin cancers and more importantly, catching skin cancer in the earlier stages can help save a ton of lives.


?The survival rate of patients diagnosed with early sftage skin cancer is about 99% while the survival rate for patients diagnosed with advanced stage skin cancer is only about 15%. Treatment costs are directly correlated to clinical stage diagnosis with the treatment of advanced stage melanoma 2200% more than early stage melanoma.
So, not only can it save time and inconvenience for doctors and patients, but the greatest asset it holds, is early and accurate identification, which in turn can save a lot of lives.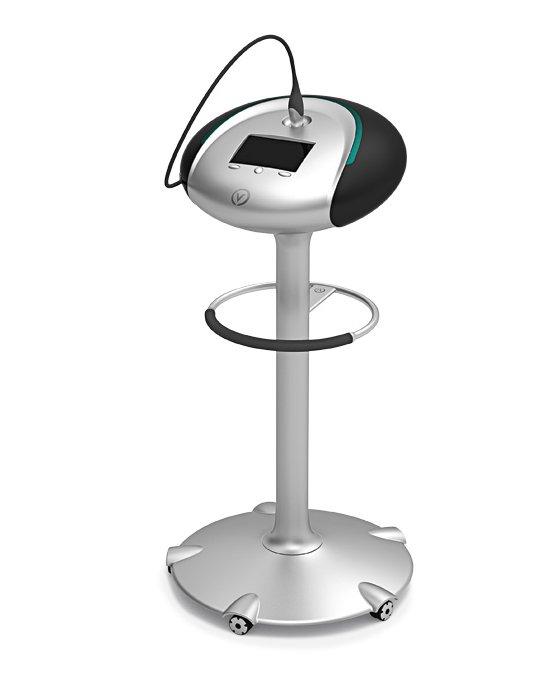 As I mentioned, the Aura has a very high success rate in detecting almost 100% of all skin cancers.


Jointly developed by the BC Cancer Agency and the University of British Columbia Faculty of Medicine, this patent protected technology has already been used in a human clinical study spanning six years on approximately 1,000 lesions. Preliminary results published in 2008 showed the technology had found everycase of melanoma in 274 lesions flagged for biopsy. This diagnostic tool will greatly aid healthcare professionals, lowering healthcare costs through reduced wait times and early detection.
Recent News/Milestones for Verisante Aura:

Approved in Canada CE Mark for sale approval in Europe and Australia "Best of What's New Award" from Popular ScienceVerisante Core

This article is mainly going to be discussing the Verisante Aura, the competition, and the benefits of the Verisante Aura. It is also important not to leave out their other product that is in the earlier stages, but can really be the game changer, Verisante Core, which can help determine other forms of cancers such lung, colon, and cervical. It utilizes some of the same technologies that are used in the Verisante Aura. Here is a description from their website:


The first use for Verisante Core™ will be to aid in the early detection of lung cancer. The device has already been used by the BC Cancer Agency on over 50 patients with excellent results. The study was done by the BC Cancer Agency in collaboration with the Lung Centre at Vancouver General Hospital.The optical biopsy system, known as the Verisante Core™ series, detects spectral bio-markers for cancer. Today, once a doctor spots a lung lesion, it must be surgically biopsied for a full pathology report to determine if it is malignant. However, the Verisante Core™ device determines with exceptional accuracy if a lesion is malignant or benign. Through this quick and non-invasive verification process, the Verisante Core™ device prevents unnecessary biopsies and the resulting stress and health-care risks and costs that accompany the biopsy procedure.


Just recently, they released some of the pilot results for the Core:


The results of the pilot study indicate that the Company's system technology could set a new standard for the early detection of lung cancer.
The Company owns, co-owns, or has the exclusive rights to all of the technology used in the pilot study, which was generously funded by the Canadian Institutes of Health Research ("CIHR") and the Canadian Cancer Society.Verisante is currently developing a commercial prototype of the laser Raman system, the Verisante Core™, licensed from the BC Cancer Agency which, when combined with the ClearVu™ and ClearVu Elite™ systems recently acquired from Perceptronics Medical Inc., reduces false positives by over 75% compared to current endoscopic methods.
Clear in vivo Raman spectra were obtained in 1 second. Preneoplastic lesions were detected with a sensitivity of 96% and a specificity of 91%.
While this article is not going to be focusing on this product in detail, this is definitely one that should not be forgotten because in a couple of years, it could really re-define the way many cancers can be detected.

Traditional Method of Identifying Skin Cancer

The conventional and old way of detection was the ABCD method (self examination), and then going to a dermatologist to determine if further examination and tests should be done. Here are several negatives of what will, in my opinion, become the old method:

Lack of Accuracy (.pdf) - Generally, for every one person that is required to take a biopsy and further testing, about 95% of them do not have cancer. That equates to a lot of unecessary biopsies.
Despite ABCD being the standard screening method for melanoma since the 1980s, well-documented studies have shown its sensitivity (i.e. identifying all melanoma lesions) among dermatologists falls anywhere between only 65% - 85%. In other words, the ABCD method when used by dermatologists typically fails to identify 15% - 35% of melanomas.


Wasted Money - Due to the lack of accuracy, there are going to be further tests done that are unwarranted and it also prevents more early stage skin cancer identification. The further in the stage of the cancer, the more expensive it becomes to treat.Wasted Time - While it does not take a lot of time for the biopsy, due to a lower success rate than the new technology, extra procedures that are unwarranted will be done. If early detection is missed, more time will have to be spent to treat the negative effects as the cancer leaves the early stages.More Suffering - Meaning, while time is wasted and cancers are missed, more people are suffering while first trying to treat a late stage cancer that is missed and deaths that could have been prevented.The main thing is the lack of accuracy which has a trickle down effect on everything else and can turn it into many unnecessary negatives. The new technology that is out there, and in particular, the Aura, can save time, money, and most importantly, it will save lives. It will be able to do this because of its high accuracy and not missing individuals that have the cancer, but by also being able to identify skin cancer in the early stages.

Verisante Aura Vs. Competition

Melafind is a recently FDA approved device for being able to identify Melanoma. Mela Sciences ( MELA) is the company that owns this device and overall, it does do a better job than the traditional method used by dermatologists, but not by much.

Initially, the device got rejected by the FDA in 2009 due to too many false positives and not really being too much above and beyond the standard method dermatologists use. Then again, they put through the information, submitted the data and in 2011 the FDA decided to approve the device as they considered it safe and useful.

Last night over and over I was trying to decide what made this device so special and how it even got approved due to so many unnecessary biopsies, but in reality when looking at the whole sample size, it is more efficient; but the best part is that it was able to identify 98% of the melanomas. So, the conclusion is that it is better than just the standard method. At the same time, the other companies that use a non-invasive device for skin cancer appear to be far above Melafind as not only can Melafind only detect melanoma while the others can detect many different skin cancers, they are all more accurate and more efficient than the Melafind. Looking at everything, the Verisante Aura appears to have a comparative advantage over them all.

My focus in regards to the other non-invasive methods of detecting skin cancer is more on the Melafind because it is the most recent FDA approved device and both share competitive and reasonable pricing strategies. Also, the information on the other two is limited.

The other main competition is the Lucid Vivascope, which has shown to have excellent results (pg.59) and the device was approved for the FDA in 2008. There is one other main competitor, SciBase, but the info is even more limited for them as well.

The Aura did a study on over 1000 lesions and so far, only a portion of that has been released, so the sample size is definitely smaller than that of Mela's, but it is very impressive nonetheless.

Below I am going to quickly show some of the results of these tests using approximate values. The information for Mela and the dermatologists is documented from the FDA submission (.pdf) from Mela Sciences and the Aura preliminary results from 2008. The Vivascope results will also be shown.

1) Sensitivity (Identifying skin cancer)

Dermatologists: 72%

Melafind: 98%

Aura: 100%

Vivascope: 96%

2) Specificity (Melanoma to number biopsied)

Dermatologists: 6%

Melafind: 11%

Aura: 75%

Vivascope: 87%

3) False Positive Percentage (non-melanoma to number biopsied)

Dermatologists: 94%

Melafind: 89%

Aura: 25%

Vivascope: 13%

4) False positives divided by total sample size (lesions)

Dermatologists: 30%

Melafind: 29%

Aura: 4%

Vivascope: 4%

An important takeaway from the information of the competition is that the Verisante Aura has shown to produce excellent results next to the competition. What is also important is that the Melafind, which seems to be below the rest of the competition, was recently approved by the FDA which should be a very strong sign for Verisante. Also, in regards to the Melafind, I think the Verisante Aura has a better pricing strategy

Aura - $60,000 to buy outright and the doctors will be able to charge about $100 to $200 per scan.

Melafind - $5,000 to $7,500 per year rental and split profits 50/50 with the buyer.

So, with the Aura being able to pay the one time fee, it helps the buyer make/keep a lot more in profit.

Example: Let's say one doctor purchased the Verisante Aura and another doctor purchased the Melafind and they both get to use the device 4 times per day for a total of 250 days out of the year and each scan costs $150 for each device.

Aura - 1000 scans * $150 = $150,000 - $60,000 for cost of device = $90,000 profit
Year 2: $150, 000 in profit

Melafind - 1000 scans * ($150/2) = $75,000 - $7,500 for rental = $67,500 profit
Year 2: $67,500 in profit

It is easy to see that not only does the Aura have better accuracy, with less unneeded biopsies, it will generate much more in profit over years of use.

Overall, the Lucid Vivascope seems to be the best competition based on their results and approval, but there are several keys as to why the Aura has advantages over it as the overall test results are similar.

Advantages Over the Vivascope:

First, it is easier to use and can identify a possible skin cancer in a matter of seconds. Second, it is more convenient as only the person using the device is needed whereas the Vivascope requires an experienced dermatologist and also requires a pathologist to be available, so two doctors. Third, it is more marketable because of the first two reasons, little training is required, so it is something that can also be used by general physicians. Fourth, because of the ease of use and low manufacturing costs, the price is very reasonable compared to the Lucid device, having to utilize different measures and doctors, costs can build up all around with the Vivascope.

While the Lucid Vivascope was the first to get approved by the FDA in 2008, they have not been able to capitalize and the company has been losing money ever since, my guess is that the struggles are due to marketability and cost of the device. Lastly, due to Lucid needing more and more funding, they are looking to IPO in the near future.

Other Informative Sources:

Fox News CEO Interview - VideoCNN CEO Interview - VideoZack's Research - Very indepth report on the product, estimates, and the industry. The most recent report also has a price target of $2.60CEO Interview - This article contains a lot of indepth information pertaining to the company.Conclusion:

Verisante Technology is in a priimed position to succeed with their innovative technology and they have the chance to be a big part in the change and improvement of cancer detection. What is also great in regards to their skin cancer device is that the market is not saturated and there is no dominant player yet in this area. Even the Lucid Vivascope devices, which were FDA approved in 2008 have not made a mark yet and I believe they have only sold about 200 devices total worldwide.

The Verisante Aura was shown to have excellent results, with 100% sensitivity so far and not a lot of false positives. The Aura is easy to use, it's easy to be trained in, provides quick detection, is very accurate and affordable. This appears to be an excellent opportunity not only for the company, but also investors as the price per share has not really moved too much on the major event such as the Canadian and Europe & Australian sales approvals. Sales in those areas should begin late this year or early next year. The FDA process, approval/decline, should happen by the end of 2012 or beginning of 2013.

Obviously, there are some risks involved as more capital infusion may be needed, but for now they currently have enough cash for most of 2012. There is no guarantee that the FDA will approve their device and there is no guarantee on how sales will be in the other approved countries. There is also the possibility that competition could rise in the future, but even though there are some risks and unknowns, there is no denying the positive outlook and possibilities.

The market cap right now is not too bad at $50 million, considering what has been achieved so far by the company and the possibility for the future. What may make this an even better long term play is their other device, the Verisante Core, which could become a breakthrough for major cancer detection. The Core may be years away for sale, but with that and the Verisante Aura, Verisante Technology is in the forefront of technology in identifying cancers and in turn, saving lives.

Disclosure: I am long VRSEF.PK.